So, I have been in a bit of a rut in being able to create or find really delicious meals my boys would embrace and love without meat.  I love looking for new cookbooks and am so happy when I find one that really speaks to my philosophy of food.  The other afternoon, while waiting for one of my boy's sports practice to finish I had a little time to kill, so over to Barnes & Noble I headed.  I'm not sure how I happened upon it, but somehow I found the Food52, A New Way To Dinner cookbook and was wowed not only by the photography but also the incredible way the two authors meal plan!  Just what I needed, to feel like I wasn't alone in the kitchen but had these two amazing friends to guide me through a week's worth of meals in one fell swoop!  This book is a game-changer!  
I looked for recipes that all four of us in our family would like and turned right to this……Spicy Roasted Cauliflower with bucatini, pecorino romano, garlic, red pepper flakes and a little Italian parsley, olive oil, salt + pepper.  Oh, and bread crumbs.  Sounds just like what the guys in my home would L O V E !!  As I made the Spicy Roasted Cauliflower and the aromas from the spices I had not used in a while filled the kitchen, I heard all three of the guys asking each other what smelled so good. Yes!  I cooked the bucatini, sautéed two cloves of garlic with the red pepper flakes, tossed it with the roasted cauliflower and sprinkled a little parsley, La Boulangerie bread crumbs and pecorino over each dish. After I tossed everything, I couldn't help but separate everything and swirl the noodles in the bowls followed by the cauliflower and garnish on top just to make it even more appealing.  Who knew cauliflower + pasta could taste so decadent?!  Enjoy!  xxo!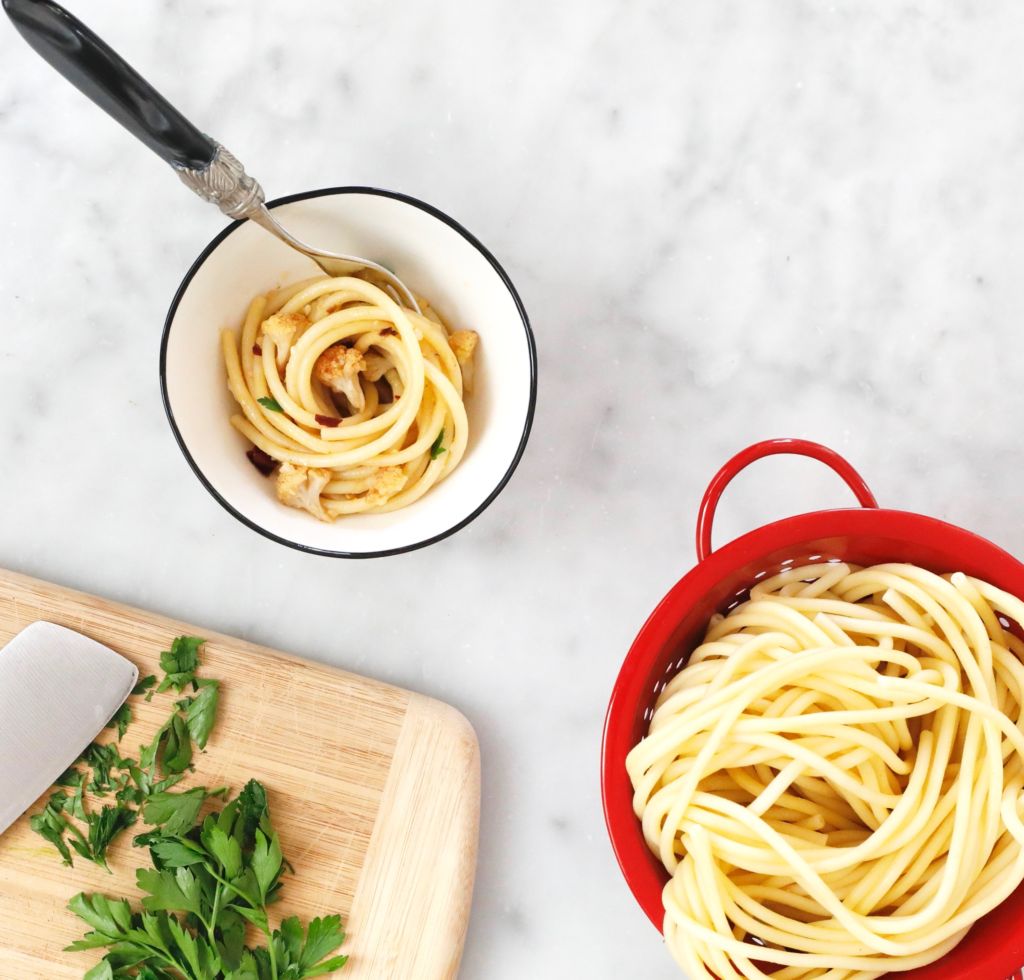 Spicy Roasted Cauliflower, Bucatini, Pecorino, Chile + Bread Crumbs
2018-09-21 14:28:47
For the Spicy Roasted Cauliflower
1 head Cauliflower, cut into small florets
1/4 cup coconut oil
2 tablespoons sherry vinegar (optional)
1/2 teaspoon sweet smoked paprika
1/8 teaspoon cayenne
1 lime, halved
salt + freshly ground black pepper
For the Roasted Cauliflower, Bucatini, Pecorino, Chile, + Bread Crumbs
1 recipe for Spicy Roasted Cauliflower
1/2 package bucatini, cooked according to package directions, reserve a little pasta water
2 tablespoons extra virgin olive oil
2 cloves garlic, minced
1/2 teaspoon red chile flakes
1/4 cup grated pecorino
2 tablespoons chopped fresh flat-leaf parsley
For the Spicy Roasted Cauliflower
Heat the oven to 450 degrees. In a large bowl, stir together all of the ingredients except the cauliflower until combined. Add the cauliflower and toss to coat. Turn onto a parchment-lined baking sheet.
Roast the cauliflower, turning once with a spatula, until tender and charred around the edges, about thirty minutes. Remove from the oven and drizzle with the limes. Set aside.
For the Roasted Cauliflower, Bucatini, Pecorino, Chile + Bread Crumbs
Saute the garlic in the olive oil for 2-3 minutes over a very low flame. Stir in the red pepper flakes. Add the Spicy Roasted Cauliflower, bucatini and pecorino with a little pasta water and stir to evenly coat. At this point, I like to separate the cauliflower from the pasta and swirl the pasta into four bowls. Then I add the cauliflower on top and distribute the flavorful bits in the bottom of the pan over the four bowls. Garnish with a little parsley and bread crumbs. Enjoy! xxo!
Adapted from Food52 A New Way to Dinner
Adapted from Food52 A New Way to Dinner
Greensgirl Nutrition https://greensgirlnutrition.com/