Yes! And, it's nutrient packed! This came about because as my boys get older, the harder it is to get them to drink green smoothies or green drinks. Such a bummer. But, they love chocolate…especially the younger one! So, since I am determined to get as much healthy food in them as possible, I figured chocolate would be how I was going to make it happen. This yummy smoothie does have some green in it that is thankfully, in this case, hidden by the chocolate. But, even without the green ingredients, it is full of some powerful nutrients that make this smoothie anything but sinful, even though it tastes like it!
Here are the ingredients that will ignite your feel good receptors while infusing your body with some much needed phytonutrients, antioxidants, vitamins and minerals…..just to name a few.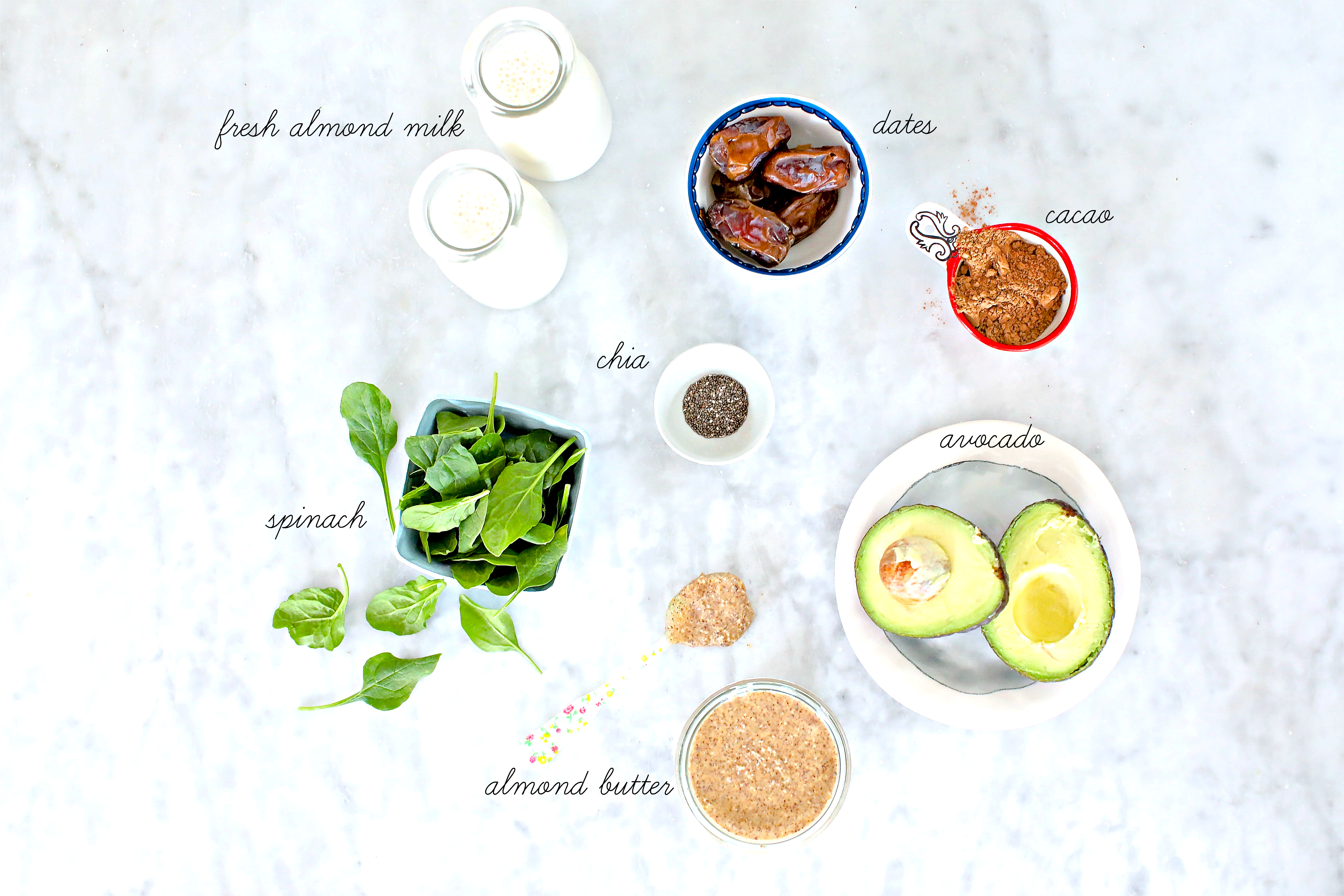 Cacao is what's behind the bliss in this yummy drink, and not just because of it's pure chocolatey taste, but mostly because it contains one of the highest concentrations of antioxidants and magnesium in nature. Did you know that magnesium is one of the minerals the standard American diet is most deficient in? So, it's really important that we eat foods as close to their natural state as possible in order to give our bodies what they need to be healthy. We need magnesium because it is an anti-inflammatory mineral that offers protection against illnesses like arthritis and Alzheimers disease. And, since inflammation causes many problems in our bodies that can lead to disease, we don't want to miss out on nutrients that fight inflammation! This is why I want you to use cacao instead of just any brand of chocolate. It is the purity that allows the nutrients to remain free of any factory formulated food science. Now, you have the perfect reason to drink this yummy chocolate smoothie every day! Cacao is simply unprocessed pure chocolate from the cacao bean. And, it's a great source of chromium, essential amino acids, fiber, flavnols and polyphenols and even more!
The sweetness in this chocolate smoothie comes from pure, dried dates…….these little fruits amaze me with their combination of twenty-three amino acids and at least fifteen minerals! They also contain a wide range of essential nutrients and health benefits. Dates help prevent disease and are very healing due to all of the types of nutrients, unsaturated fatty acids and fiber contained within them. I much prefer adding them in smoothies if I need a little sweetness because they are loaded with many more nutrients than some of the natural liquid sweeteners such as honey or agave.
Another very purposeful ingredient are the chia seeds. The amazing thing about these tiny seeds is that their soluble fiber content is hydrophilic, which means that they can absorb 10-12 times their weight in water. This property means that chia prolongs hydration and retains electrolytes in body fluids, which protects against dehydration. So many of us are not properly hydrated, which can lead to a lot of problems in our bodies. It is so easy to toss some of these little seeds into your smoothie, plus they will help to create a thicker consistency to make this smoothie more milkshake-like! And, of course, the greens. Avocado and spinach. Spinach is an easy and super significant source of plant-based calcium and protein. And, plant-based calcium is the best type of calcium for your bones. Be generous with the spinach here! Besides nourishing the skin and organs with good fats, the avocado will buddy up with the cacao to give this smoothie that silky, creamy, chocolatey addictive yumminess that will make you wonder if something that tastes this dreamy can actually be good for you. You could use yogurt in it's place for a creamy texture, but if you have a ripe avocado just sitting on your kitchen counter, choose it first!
Take your pick on the type of milk you use as your base! Anything will work! My favorites are freshly made almond and cashew milk. If you haven't yet tried making your own, watch my video on how to make cashew milk, here, https://greensgirlnutrition.com/how-to-make-cashew-milk/. Homemade nut milks taste a thousand times better than store-bought and store-bought nut milk has a lot of ingredients your body just doesn't need or know what to do with. I hope you try this. Remember to make it simple for you. If you don't have dates, use honey, coconut nectar, maple syrup or another natural sweetener. If you don't have nut milk on hand, use cow's milk. Your body will still benefit from the other super charged ingredients and the chocolatey goodness will make you happy from head to toe! xxo!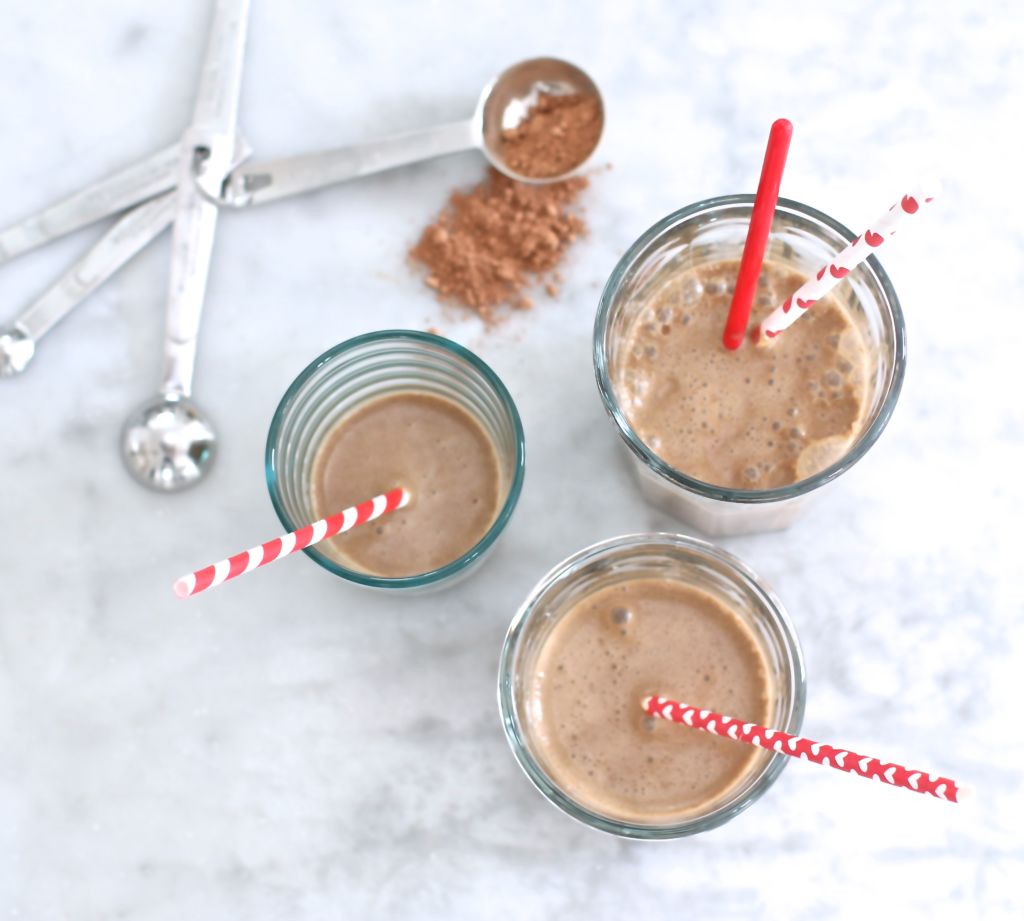 Nourishing Chocolate Smoothie
2017-02-16 10:49:15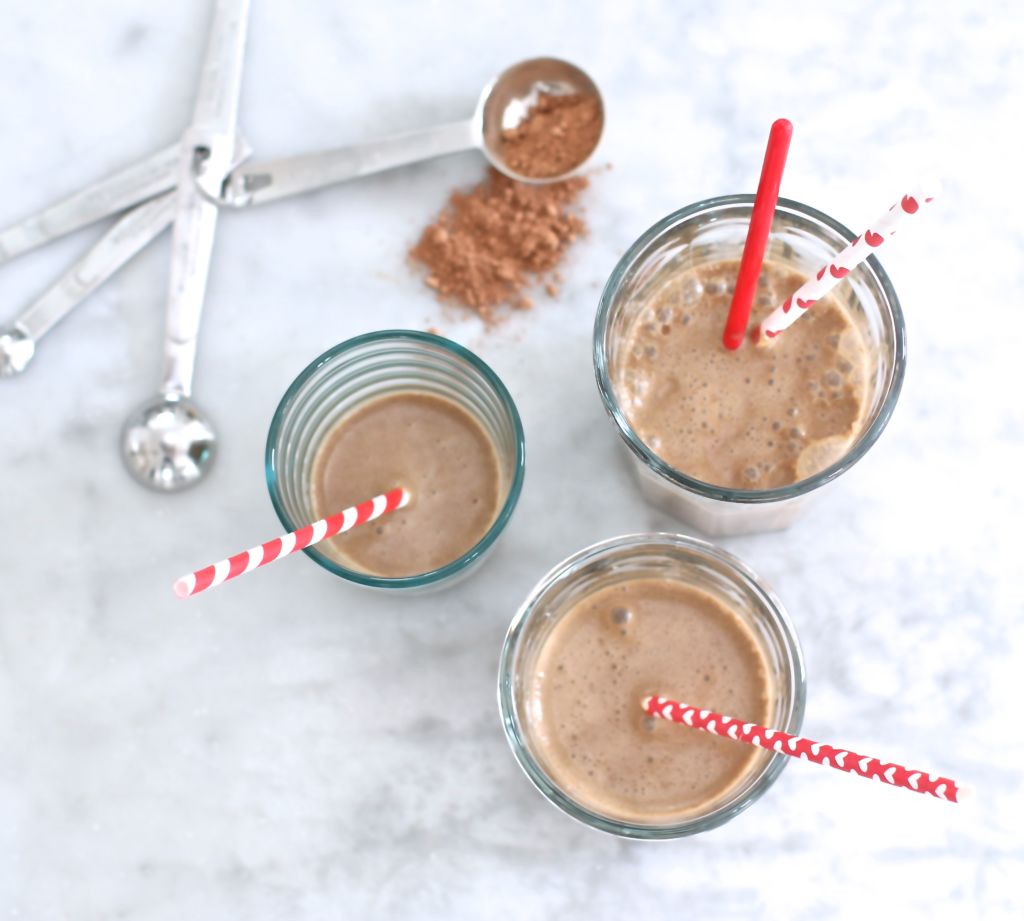 Serves 3
chocolatey, creamy and packed with nutrients!
Ingredients
2 C fresh almond milk
2 T chia seeds
3 T cacao powder
2.5T almond butter
1 tsp vanilla extract-optional
1 handful of spinach
1/4 avocado or 1/8 C plain yogurt
5 pitted dates
1-2 C ice
Instructions
Combine all ingredients in a blender for one minute or until ice is completely broken down.
Taste. Is it sweet enough? Is it cold enough?
If not, add a few more dates or honey and/or ice. Enjoy!
Greensgirl Nutrition https://greensgirlnutrition.com/